Tibetan Medicine in the West
Perception and Transition in the West

On May 2014, in Bad Nauheim, the German Medical Association of Acupuncture (DAEGfA) presented the 2014 Gerhard-Bachmann Prize to its Honorary President Dr. Walburg Maric-Oehler. On this occasion, Ms. Sonja Maric' Oehler interviewed Tibetan Doctor Pasang Y. Arya, who has collaborated with DAEGfA for more than 20 years in there to the Tibetan medicine education program for German Doctors.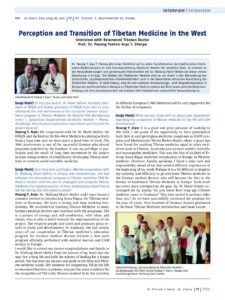 Download this article published in the Deutsche Zeitschrift für Akupunktur – German Journal of Acupuncture and Related Techniques.
You can download and print this pdf document for your own personal use. For any other purpose, copies of this material or part of this material are not allowed unless you have the written permission of the author.