Tsalung Healing Practice
Tsalung healing Workshops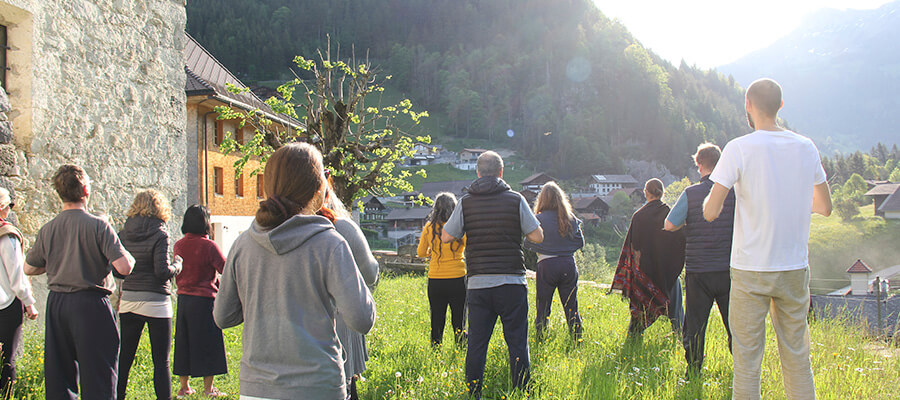 The spring season of 2019 was particularly busy with two Tsalung healing therapy practice workshops level 1 that took place in March and April. They were held in Jaun, in the pure atmosphere and beautiful environment of the Swiss mountains.
During the first workshop, it unexpectedly snowed quite heavily over the entire Jaun Dorf mountain and valley region. The snow covered the valley like a white blanket which cleansed and washed the environment. One beheld a magical and beautiful creation in the morning with sunrays and their reflections in the micro snow crystals – just like a dreamland on earth. The rivers and trees all flaunted and demonstrated their natural beauties. Such a beautiful, clean and peaceful environment was definitely a gift.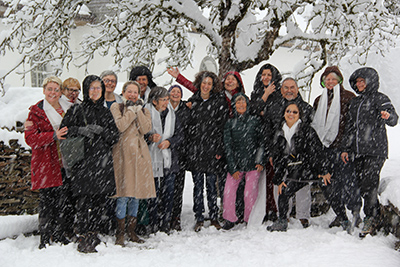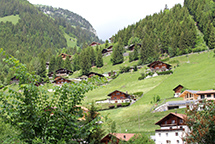 This year we had two groups of newcomers coming from diverse countries such as Australia, Brazil, U.S.A., Netherland, Denmark, Lithuania, France, Switzerland, Sweden and Italy, and from various fields of endeavor such as medical doctors, psychologists, pharmacists, physiotherapist, healers, mediums and interested individuals. Despite the long journey and jet lag, all participants showed great enthusiasm and motivation to learn the Medicine Buddha Tsalung healing practice, meditation and tantric Luejong yoga. The newcomers were no doubt naturally a bit anxious and unsure of what to expect.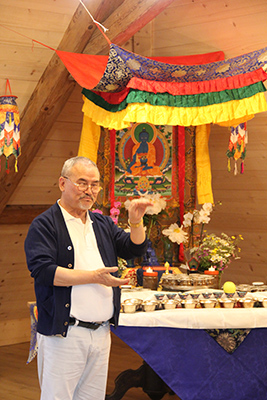 Dr. Pasang started these special retreats with an introductory speech: "In this retreat you are going to learn two important practices. They are Naropa's Six Dharmas' Yoga Luejong and Tsalung healing practices. These practices are inter-connected and the essence of yogis' secret healing practices. The central figure of the Tsalung healing practice is the Medicine Buddha, the supreme healer in Tibetan Mahayana Buddhism, from whom all healing practices come. I learned the Tsalung healing practice in Ladakh and kept it for over the last two decades, using it as a personal practice. However, I believe that the time has arrived to share these yogic healings and therefore, for the sake of good purposes and reasons, I want to open the door to interested students to access this practice, with less tantric spiritual restriction and commitments. However, its fruition solely depends on your dedication, and respect for the practice and programs. Without respect and proper collaboration from your side, this special retreat will not be beneficial to one's self and others. The one-week workshop is intensive and therefore all participants should be aware that the program is tight and should abide fully in Tsalung and Tsalung healing training. The Tsalung healing energy can only be generated and moved if your practice is performed accordingly. Coincidentally, the weather and environment have also perfectly created supportive conditions for the Tsalung practice and so we shall put our force into achieving the goal of this retreat."
Dr. Pasang emphasized, "All good results in Tsalung depend on one's full participation in the practice and respect for the training discipline. The result of the body, mind, and speech transformation and developments may be achieved only by starting through body training and discipline. Therefore, the body is the base of all trainings and there is no special technique that can allow one to fly in the sky within a week! However, if you train well, one week of Tsalung healing training and dedication in practice can generate some power that can help and heal one's body mind Tsalung disorders."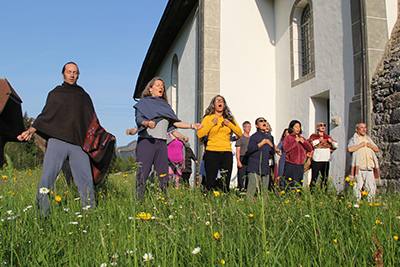 During each workshop, the whole program was personally led by Dr. Pasang Y. Arya. The first session started very early in the morning, way before sunrise, and all participants gathered punctually in the Tsalung practice hall. Dr. Pasang began the teaching with the nine-cycle respiration exercises (rlungro dgu 'phrugs). The technique is based on Tsalung healing training. After that, it continued with the Medicine Buddha Sadhana including the Tsalung power generation prayer. Every day, the first session of the morning concluded with Tsalung Luejong (body exercises) and Maning Hadhon practice. Dr. Pasang explained to the participants his long-time search for Naropa's Six Yogas Luejong and especially for the Maning Hadhon practice, which is an extremely important practice in the Tsalung healing technique to stabilize the mind from mental instabilities in daily life. It is the technique used in Tibet by yogis and meditators to heal the chronic mental trauma and restore harmony of the mind. For this practice, one faces towards the clear sky above the mountain with traditional meditation visualization while making a loud sound of HA to eliminate rlungro, or stained and impure rlung (wind), chronic trauma blockage and common mental instability disorders. The practitioner should make a loud sound from the bottom of the abdomen with emotion, so as to remove the impure wind blockage and mental instability problems.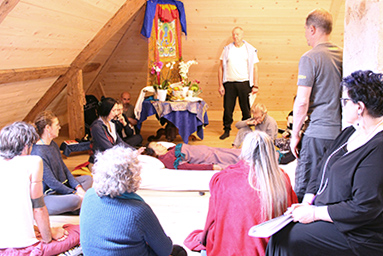 During the second morning sessions, Dr. Pasang Arya taught the theory of the Practical Tsalung healing practice from his 1st book. It includes three main parts:
Tsalung healing training
Tsalung diagnosis
Tsalung healing practice
Every day after lunch, all participants studied the theory and put it into practice step by step in small groups under the guidance of Dr. Pasang Y. Arya. On the 6th day, there was a practical Tsalung healing examination and each participant was required to explain and demonstrate the subjects and practices. On the last morning, Dr. Pasang Arya presented the 1st year Tsalung healing workshop certificates along with white Khadaks and gave a short speech, where he said that the "Practical Tsalung healing therapy" that he carefully designed as a systematic method and training, fully belongs to the general spiritual Tsalung practice. Through this path of practice, one may find a door to enter into the path of a higher state of practice. He also explained that for general people, opportunities to study such teachings are very rare.
The same program was followed by a 2nd group of 1st year Tsalung healing course students, comprising mainly Italians. Most of them had already undertaken several years of Tibetan Medicine and Tsalung studies with Dr. Pasang Y. Arya in Milan.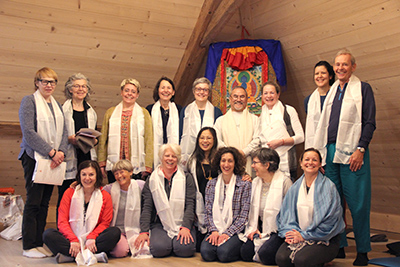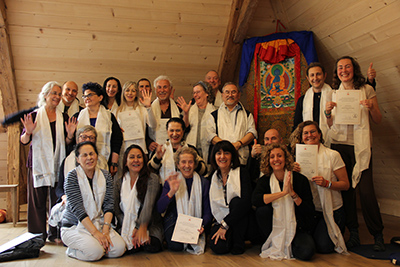 In June, a season with a high level of energy, a 2nd year Tsalung healing workshop was held for a group of advanced Tibetan Medicine students. Dr. Pasang Y. Arya introduced the main Tsalung Gegsel Trulkhor practice and healing methods, and distributed the 2nd book on Medical Tsalung healing which comprises five sections:
General rlung (wind) disorder Gegsel trukhor exercises
Five principal rlung (wind) Gegsel trulkhor exercises
Five minor rlung (wind) Gegsel trulkhor exercises
Ordinary basic Tummo practice
Maning Hadhon 2nd level practice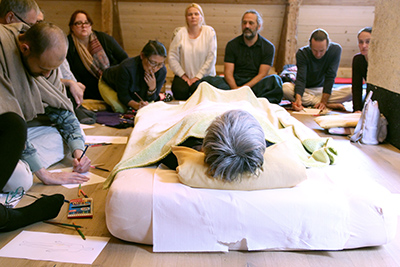 The 2nd level of Tsalung training and practice focuses on therapeutic exercises for the five major and five minor rlung (winds). This is practically the most important and fundamental Tsalung and Tsalung healing training. Tsalung Gegsel techniques can remove blockages in the channels and chakras and heal some major disorders of rlung (wind) originated diseases such as anxiety (snying rlung), mental instability, psychological and emotional disorders and many other rlung (wind) disorders.
On the sixth day, after the Tsalung healing practical examinations, participants received the 2nd year certification and left with Tsalung healing methods in their hands.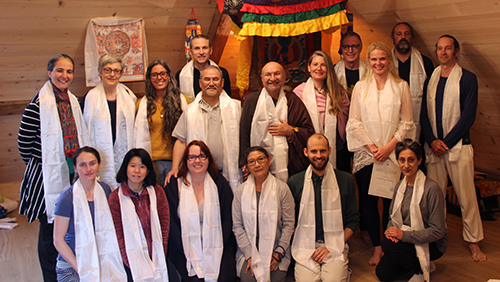 The workshops were very intensive but participants showed a great interest for these precious teachings and fully engaged in these special practices. They enjoyed the warm atmosphere, as well as the healthy food prepared by Mrs Ledi Elia, a Tsalung healing student and advanced student of Tibetan medicine. After each workshop, it was difficult for participants to quit the magnificent mountains and the teaching atmosphere, as well as their fellow students.
Following the June workshops, the 15th Medicine Buddha retreat led by Dr. Pasang Yonten Arya started at the same place with a group of trained practitioners, and ended with a Jinsek ritual, or fire puja.
TME, Neuchâtel