Prof. Pasang Yonten Arya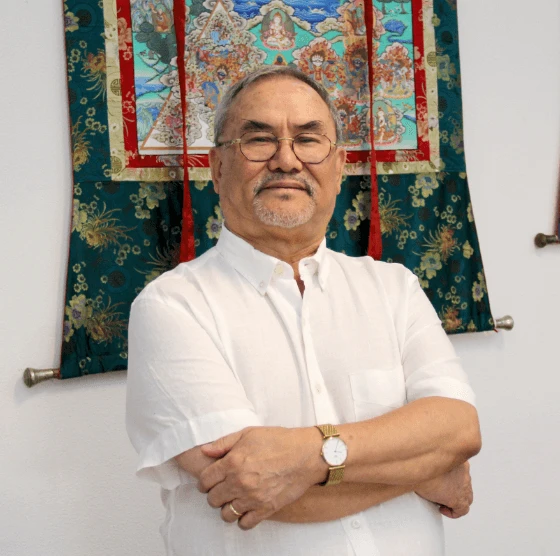 Dr Pasang Y. Arya is a prominent senior and experienced Tibetan doctor as well as a recognized teacher. Born in Tibet, he has graduated in Tibetan Medicine, Pharmacology and Tibetan Astrology, at the Tibetan Astro-medical Institute (Men-tsee-khang) of Dharamsala, India. He was a director and professor of Tibetan Medicine at the Men-tsee-khang Tibetan medical college and has been teaching Tibetan Medicine since 1983.
He regularly participates in national and international leading conferences in Tibetan Medicine in Europe, U.S.A. and Asia. He's been living in the West since 1992, and teaches Tibetan Medicine in Italy, Germany and Switzerland. Throughout these years, he has gained a long experience to share and explain the Traditional Tibetan concepts to a western audience.
Pasang Yonten Arya T. Sherpa's autobiography
I was born in 1955, in a small village in Kyirong, Tibet – near the border of Nepal – in a family called Arya. There are today very few remaining families from the ancient Arya lineage who live in Tibet, Nepal and India. My ancestors were descendants of a very renowned tantric practitioner family of the 8th century in Tibet, and one of them was famous Khulungpa Yonten Gyatsho, the master of Yogi Milarepa for tantric storm magic.
Pasang Yonten Arya T. Sherpa's Curriculum
1955: Birth in Dolpo, Tibet.
1966: Escaped to Nepal during the Cultural Revolution under the Chinese invasion in Tibet.
pioneering textbook of Dr. Pasang's lifework!
Based on decades of study, teaching, and practice, the first volume of Dr. Pasang's long-awaited textbook series titled New Light on Tibetan Medicine is finally there. New Light's Foundations is available via the Bedurya Publications webshop and also via your favorite bookstore or online marketplace.
Bedurya Publications is part of TME, a non-profit dedicated to the flourishing of Sowa Rigpa worldwide.