Tsalung Healing Practice
Interview on Tsalung healing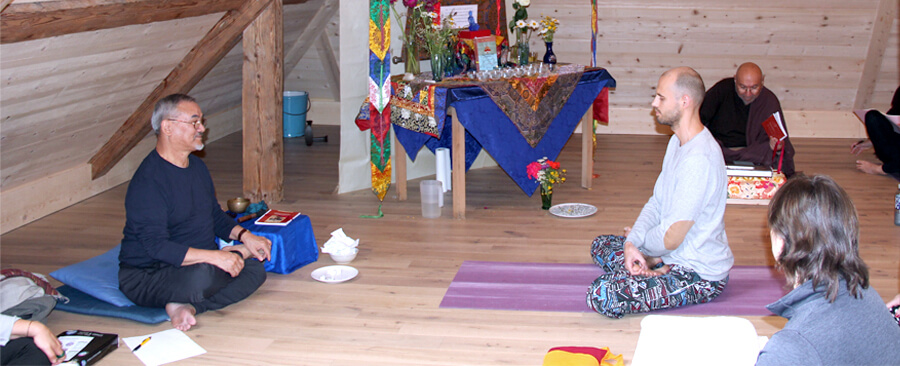 Interview with Dr. Pasang Y. Arya – by Sylvie Beguin
After many years of requests from his students, Dr Pasang Yonten Arya has finally accepted that there is a need to open the door to Tsalung healing practice.
In June 2018, in Jaun – Switzerland, the 1st workshop on Practical healing therapy was held, with a group of Tibetan Medicine advanced students in attendance. Dr Pasang Yonten Arya has now acceded to requests to open this healing therapy to a wider community of interested persons, by making teachings available in the form of a 3 year course. Following the announcement of these Tsalung healing therapy teachings, TME has received many questions and requests for more information.
We hope you will find some answers to your questions here.
1. Recently TME launched a 3-year Tsalung healing course, based on annual workshops. The first workshop took place in Jaun in Switzerland and was very successful. Why wasn't this non-medicine based healing therapy available previously?
2. What is the difference between Tsalung and the Practical Tsalung healing therapy?
3. How did the Tsalung workshop students, who were already your Tibetan Medicine students, react to the teaching? Was it what they expected?
4. What is the Tsalung power or nuepa (nuspa)? Is it a body power? do you produce it yourself?
5. How did you learn this Tsalung healing therapy techniques?
6. Can Tsalung healing be learned by anyone?
7. What are the required qualifications for Tsalung students?
8. Eventually, you opened the secret door of the Tsalung healing therapy but also in some way closed its window as you required a Samaya (commitment) from the students not to disclose these teachings to others before they have finished the whole 3-year cycle. Why did you do this?
9. What makes "Practical Tsalung healing therapy" so special and most practical for health practitioners?
Thank you so much Dr Pasang la, for sharing these precious teachings.