Materia Medica
Tibetan herbs formulas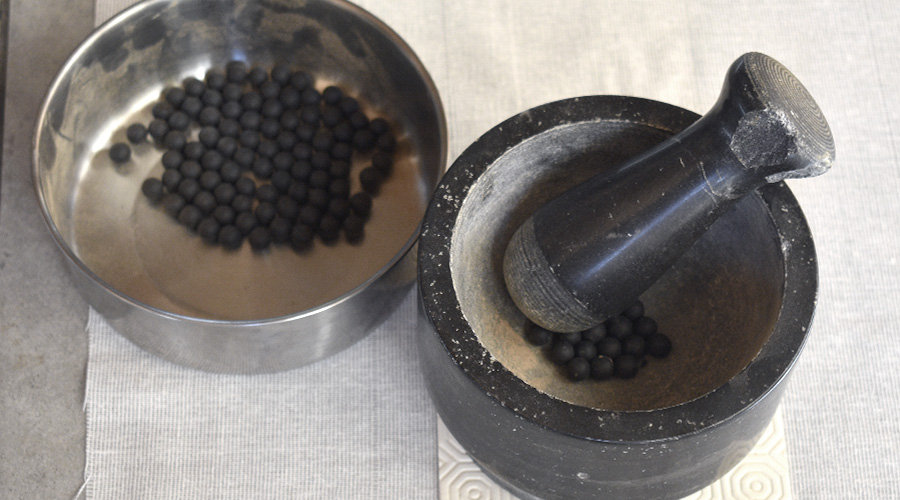 Tibetan traditional medicine is one of mankind's richest ancient living medical systems. It is a complete system of body-mind healing and has produced hundreds of great masters and physicians, who have left many works on the art of healing, known as 'Sowa Rigpa'. This centuries old traditional medicine system continues to be used today to heal the health and spirit of the people of the Asian Himalayas.
In addition to the theory and practice of the general medical system, the most precious of traditions is the secret of medicine making. This centuries old tradition has been passed down to the present day. There are several thousand medicine formulas contained in the Tibetan medicine pharmacopeia. These formulas were principally developed from the Gyud-shi, with many formulas evolving from the 13th century onwards.  Especially during the 17th century, many of these formulas were integrated into the central medical practice by Desid Sangye Gyatso, (1653–1705), and this integration has been continued by scholars ever since. The year 1959 was however a turning point that changed the world of Tibetan medicine. Indeed, since that time, the system has faced difficulties to survive, and its development was slowed until the 1970s due to many situations and restrictions. However, Tibetan Sowa Rigpa or Tibetan medicine is now developing strongly in Tibet (China) and as well as in India, Nepal, Bhutan, Mongolia and even in western countries.
In the West, despite the interest and needs of students and other Tibetan medicine practitioners, only very few high quality Tibetan Medicine products can be obtained, and only in some countries. This has proved to be a roadblock to the development of Tibetan medicine and prevents the sharing  of experiences with interested western doctors and other professionals. To fill the gap, I wanted to see if western or European herbs could be used according to Tibetan Medicine principles here in Europe to offset this lack of products. For that reason, I surveyed and made extensive excursions from 1998-2008, covering over 5000 kilometers throughout the Italian, Austrian and Swiss Alps, with and without students.The results were compiled in an herbs book entitled "Tibetan healing herbs growing in the Western Alps", as yet unpublished. European mountains are unlike those in Asia. In Europe, there are a few Tibetan medicinal herbs and plants to be found in the Alps, but they are protected and can't be collected. In fact, some of the Tibetan medicinal herbs and plants can only be found in cultivated mountain herb gardens rather than in the wild. These conditions have discouraged me a lot from promoting the integration of European Alpine herbs into Tibetan medicine practice. But I am pleased to see many western holistic medical doctors and naturopaths using Chinese or Ayurvedic products as herbal teas, food supplements and phythotherapy products, as well as local plants, in their daily practices. This is a beautiful solution for people who aim at working with a holistic healing of the body mind.
Medicine Buddha said in the last Tantra of the Gyud-shi:
"If [you] are not able to use what is seen and heard around you
Then it is difficult to find rare and powerful medicine.
For example it is like gods and naga's jewels that
Even when found can't be bought by poor people.
Or like a man wandering in the market without anything and who
Therefore can't cure the remote poor people's disease.[I] Will expound here herbal formulas with my compassion mind.
However, the power of the herbs is stronger than 'rtsi sman' [1] Even camphor can be controlled by herbs power"
Therefore I've decided to accept the request of the New Yuthok Institute and TME-Tibetan Medicine Education center's students to give them workshops on Tibetan herbal medicine preparation.
The Tibetan herbal medicine preparation workshops
The first workshop on traditional Tibetan herbal medicine formulas was held in February 2013 in Milan – Italy. It introduced the identification of the ingredients, the formulas, herbs preparation and their uses based on Tibetan materia medica of Pharmacology, as well as on the practical indication, symptoms of the pathology and nutrition, and behavioral advice. This first seminar focused on formulas for Rlung/Wind, Mkhris pa/Bile and Badken/Phlegm humor disorders, while the 2nd seminar, held in Milan on April 2014, presented more complex formulas. Some formulas were based on the Gyud-shi and other traditional literature, while others were new formulas that I've developed based on Tibetan medicine principles. All are based on a collection of safe ingredients and compounded according to my own personal experiences and gathered in a booklet entitled 'Tibetan herbal formulas preparation'.
It has been a great pleasure to see my western students, who studied the theory and practice of Tibetan medicine with me for many years, take such interest in learning the preparation of the medicine, even many years after their studies. Students have even come from as far away as America, Germany, Czech Republic, Switzerland, France, Spain, and Italy. Due to the difficulty and restrictions in finding Tibetan medicine in the West, it is indeed precious for them to have in their own hands the way to prepare useful medicine with safe and available ingredients, permitted by western laws. It is then my wish and my project to continue in the future to present new formulas for simple, complex and chronic diseases.

See more pictures on our Facebook page
………………………………………
Prof. Pasang Y. Arya joined the Men-Tsee-Khang of Dharamsala (Tibetan Medical-Astrological center), India, in 1973, and graduated in 1977 with a distinguished position rewarded with a further 3-year specialization in Tibetan traditional Pharmacology and alchemy practice. He worked two years as an Assistant director in the pharmaceutical department of the Men-Tsee-Khang, and in 1982, he was appointed teacher at the Men-Tsee-Khang Tibetan medical college. From 1983 to 1989, he was professor and Principal of the Medical College of the Men-Tsee-Khang. He now lives in Italy and teaches in Germany as a guest Prof. for the Daegfa German medical Acupuncture association, in Italy as Director of the New Yuthok Institute and worldwide online with TME-Tibetan Medicine Education center.
………………………………………
[1] Natural concentrated expensive medicine fruits and flowers.